302 1st Avenue West | Hanna, AB | T0J 1P0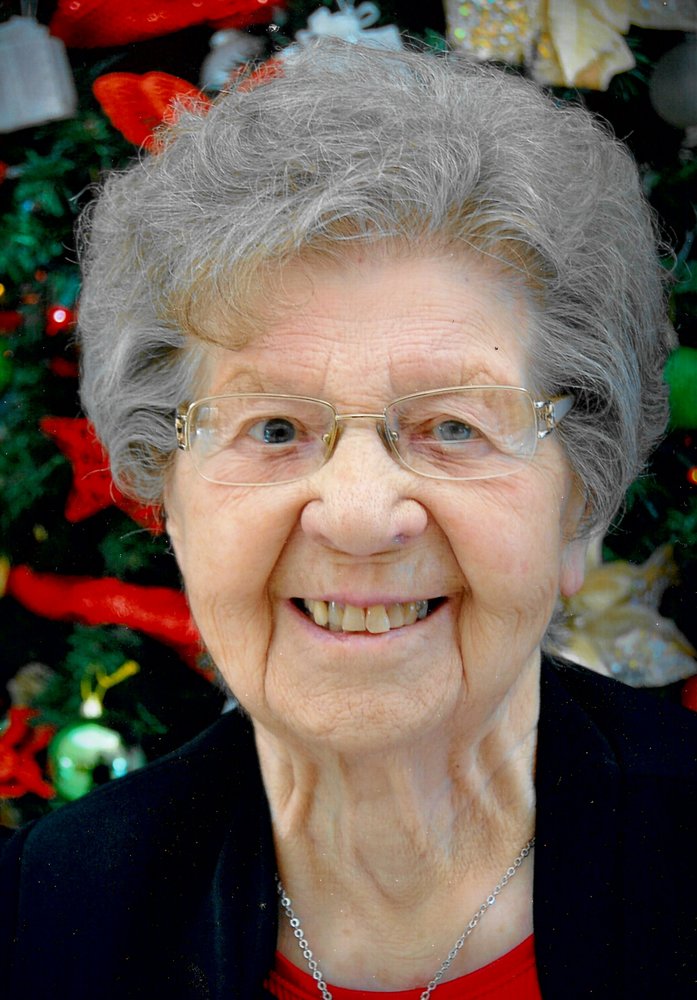 Service of Remembrance
2:00 pm
Wednesday, October 10, 2018
Bethel Evangelical Missionary Church
702 Center Street
Hanna, Alberta, Canada

Get Directions
Private Family Interment
Hanna Cemetery
North of Hanna on Pioneer Trail, Range Road 143,Hanna Township: NE 16-31-14 W4 Locality: Special Area 2 Provinc
Hanna, Alberta, Canada
403-854-4433

Get Directions
Luncheon
Hanna Seniors Circle Immediately Following The Service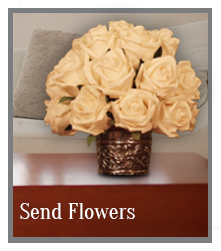 Obituary of Irene Jess
Obituary – JESS, Irene (nee Heller)
February 23, 1923 to October 1, 2018
Irene Jess passed away just before midnight on Monday, October 1, 2018, with her daughter by her side. Irene was 95 years of age.
Irene was born on February 23, 1923, at the Heller farm near Wisdom, Alberta, to Conrad and Elizabeth Heller. She was born into a large family, and she deeply loved each and every one of them. Growing up on a farm, Irene had to do her share of chores. There was stooking to be done, hay to haul, cows to milk and feed, pigs to feed, rocks and thistles to pick, and garden work. She helped with the cooking and baking on a cookstove, and also helped with the care of her younger siblings.
Irene loved music. She had a beautiful singing voice and was very musical. When Irene was about 14 years of age, she was given ten lessons on the pedal organ. Irene then passed this knowledge on to her younger siblings. These organ lessons allowed Irene to even further her love for music, and for many years she played the organ at the Congregational Church – a country church south of Medicine Hat.
Irene attended the Wisdom School where she completed her Grade 8 education. She was quiet and shy, and was an avid reader. At the age of 15, Irene moved from the Heller farm into Medicine Hat. It was then that Irene started working at Medalta Potteries in Medicine Hat, where she worked for the next 11 years on the cup gang, which entailed making cups and ensuring that the cup handles were put on properly and straight. Every cup had to pass inspection.
In July of 1948 Irene attended Alberta Camp – a Bible camp near Didsbury, Alberta. It was there that she met Theodore (Ted) Jess, a young man from Hanna, Alberta. Ted did not have the nerve to talk to Irene all week at camp. He would ask who the girl in the blue sweater was, and wanted to know where she was from. It was not until the last day at camp, as Irene was leaving, that Ted finally had the nerve to ask her for her address. Ted pursued the girl in the blue sweater, and won Irene's heart. Shortly before her marriage, Irene had the opportunity to become the cup gang supervisor at Medalta Potteries in Medicine Hat and be overseer of approximately eight employees, but her heart belonged to Ted. They were married on May 21, 1949, in Medicine Hat.
After her marriage to Ted, Irene made her way to the Jess family farm in the Grassy Slope area by Hanna, Alberta. Even though Irene was homesick for Medicine Hat and her family there, her love for Ted, and her strong faith in God, gave her the strength and courage to make a new life on the farm in the Hanna area.
Irene worked hard on the farm. She raised chickens, had a huge garden every year, picked rocks, baled hay, helped with the combining and drove the truck, helped Ted fence, milked as many as seven cows and separated the cream, to name only a few of her duties. Irene helped on the farm wherever she was needed. Some years, depending on how good the harvest was, hired men would come and help with the farm work. They would live in the summer kitchen on the farm. There was threshing to do, stooking, and hauling of bundles during the fall. Irene would cook, clean, and do laundry for the hired men. There were no modern conveniences of today. Laundry was done on a washboard, or in a handle operated tub machine, and clothes were wrung dry between two rollers and then hung outside to dry. No sooner was one meal done and it was time to start preparing the next meal. Irene loved to bake and cook. In fact, when harvest season ended, many a hired man did not want to leave the farm because they enjoyed Irene's cooking so much.
Irene and Ted's only child, Bonnie Gaye, was born in Hanna on December 13, 1956. Irene was a caring and loving Mother. She and Ted raised Bonnie in a loving home, and instilled in her the love of music and a faith in God.
The construction of the Bethel Evangelical Missionary Church, known as the Evangelical United Brethren Church at the time, began in Hanna in 1956. (Ted spent many months helping with the construction of the church.) The church structure was completed in 1957, and Irene and Ted, along with their daughter, faithfully attended services there. This church became Irene`s lifelong home church. She loved the church. The church was Irene's sanctuary.
Along with being an excellent Mother and raising her daughter, as well as her many responsibilities as a farm wife, Irene immersed herself in the work of the church. She worked tirelessly in her home, in the church, and on the farm.
Music was an integral part of Irene's life. Music was something that Irene and Ted had in common. They sang together for decades – singing in church and at special events such as anniversaries, weddings, and funerals, to name just a few. Irene and Ted's home was a very musical home, and over the years their daughter, Bonnie, also sang with them. They were known as the "Jess Trio".
Irene taught Sunday School for countless years and helped out every summer with Vacation Bible School. She was active in the Women's Missionary Society, and was the Hanna Evangelical Women's Treasurer for many years. Irene was very good with numbers, and did not need to use a calculator. She was also the Church Lunch Coordinator. Irene planned and organized food for functions such as weddings, funerals, and big Christmas dinners at the church, as well as any other functions that required a meal or lunch at the church.
When Irene sang, her voice rang true and strong. In church, her voice could be heard throughout the congregation. Irene sang in the choir, and then became the Choir Director – a position that she held for over 60 years. For many years Irene was a worship leader in the church. Her talent and clear, strong voice made her an excellent song leader. Irene was the Music Coordinator and organized special music for each Sunday morning worship service. She also organized the music for the Hanna Lodge and Long Term Care church services once a month for many years. Both Irene and Ted faithfully attended these services every month, ministering in song to the residents. The Evangelical Women hosted birthday parties at Long Term Care, and Irene always organized the music for the birthday parties that were held the last Tuesday of every month. Once again, Irene faithfully attended and helped celebrate the residents' birthdays each month. Irene was a good and faithful servant.
For many years Irene also directed the Hanna Senior Choir, a community choir that performed at various functions in Hanna as well as out of town. She very much enjoyed her years with the Senior Choir.
Irene also enjoyed crocheting, knitting, sewing, gardening, singing, playing the organ, reading, baking, and cooking. Her hands were never idle.
Bonnie, Irene and Ted's daughter, married Jurgen George Kautz in Hanna on October 23, 1976. Irene and Ted built a new home in Hanna, and in June of 1977 they moved from the farm into the Town of Hanna. It was at this time that Bonnie and Jurgen moved onto the Jess family farm, where they farmed together with Irene and Ted.
On Easter Sunday, April 19, 1981, Irene and Ted's first grandchild was born in Hanna – Darren Jess Kautz. A boy! The son Irene and Ted never had. They were so happy and excited! In fact, at the same time that Darren was born, Irene was directing the Easter Cantata at the church and nervously watching the big clock on the church wall.
On January 4, 1986, Irene and Ted's second grandchild was born in Hanna – Kara-Lee Noelle Kautz. They couldn't have been more delighted to add a precious little granddaughter to their family! They felt blessed to have two grandchildren now.
Irene doted on her grandchildren and loved them dearly. They were the light of her life. Family was very important to Irene! She was so happy when her family all attended church together. Irene loved to watch her grandchildren take part in special activities and Christmas programs at the church and at school. She delighted in being able to attend Darren and Kara-Lee's many school, music, and sports functions, high school and university graduations, and their weddings. Irene loved to bake goodies for her grandchildren and cook delicious meals for them. Her German dishes were especially a favourite with her family. At age 90, Irene still made knifla for her grandchildren. She was an excellent cook. Irene was very proud of Darren and Kara-Lee, and once they graduated from high school and left home to pursue their secondary education, it filled her heart with joy each and every time she saw them again. She was so proud of their many accomplishments and their careers. Irene missed her grandchildren once they moved away, and never missed an opportunity to ask about them and talk about them.
Irene was thrilled when she became a great-grandmother to four boys: Lucas Jess Kautz, Myles Jurgen Kautz, Nixon Bentley Potuer, and Hendrix Hannan Potuer! She loved each one of them very much.
Irene and Ted, along with Bonnie and Jurgen, farmed together as a family until 2012, when they decided to rent the land out. Irene was 89 years old at the time. She had worked hard all those years on the farm to make a better life for her family.
At age 90, Irene retired from her duties as the Senior Choir Director, as well as the Church Choir Director, Music Coordinator, Lunch Coordinator, and the Evangelical Women's Treasurer. That year, Irene fractured her lower back. In November of 2013, after spending 3 ½ months in the Hanna Hospital, Irene and Ted moved from their home in Hanna into the Hanna Lodge. They enjoyed their time together in the Lodge very much.
Following Ted's stroke in September of 2015, Irene moved into the Assisted Living wing in the Hanna Long Term Care facility the end of October, 2015. Ted moved into the Hanna Long Term Care facility the beginning of November, 2015. Irene chose to move into Assisted Living. She wanted to be with Ted, the love of her life. Their life together was truly a love story.
On May 21, 2018, Irene and Ted celebrated their 69th Wedding Anniversary. Irene often said, "They were good years!" This is the loving legacy that Irene left to her family. She left a legacy of love, faith in God, and a thankful spirit.
During the last months of Irene`s life, she spent more and more time in bed. As she lay there, she would move her finger in time to the rhythm of the hymns being played on the CD player. Right to the very end, Irene was still directing the choir.
Irene acted with dignity and showed love and kindness to all. She had a quiet grace about her – a quiet resolve and determination about her. Irene never complained. She did what she had to do with no complaints, even if she was tired or had a sore back. A week before Irene passed, she made the comment to her granddaughter on the phone, "You can't complain about every little thing." That must have been Irene's motto in life. No matter how hard Irene worked throughout her life, and no matter what health issues she endured, she never complained.
Irene and Ted remained together in the Hanna Long Term Care facility until Irene's passing.
We have such good memories of Irene. She was a very sweet, loving, and gracious lady. Irene will be greatly missed by all those who knew and loved her.
Irene was predeceased by her father and mother, Conrad and Elizabeth Heller; her siblings: Erna (Robert) Schweeder, John Heller, Emmanuel (Hilda) Heller, Emil (Lillian) Heller, Mary (Otto) Stuber, Eli (Sophie) Wagner, Samuel (Martha) Wagner, William (Bertha) Wagner, Ruth (Emil) Brost, Hildegard (Harold) Stelter, Edwin Heller, and Theophil (Lizzie) Heller. Irene was also predeceased by her father-in-law and mother-in-law, Gotthilf (George) and Carolina Jess; sister-in-law, Ella (Elmer) Minke; and brothers-in-law, Otto Motz and Walter Banco.
Irene is survived by her loving husband of 69 years, Theodore (Ted) Jess; daughter and son-in-law, Bonnie and Jurgen Kautz; grandson, Darren (Chari) Kautz; granddaughter, Kara-Lee (Graham) Potuer; great-grandsons: Lucas Jess Kautz, Myles Jurgen Kautz, Nixon Bentley Potuer, and Hendrix Hannan Potuer; sisters: Annette (Lawrence) Sackmann, and Bertha (Milbert) Riegel; sisters-in-law, Vi Heller, Ida Banco, and Clara (Florein) Motz-Eberl; as well as numerous nieces and nephews.
A Service of Remembrance will be held on Wednesday, October 10, 2018, at the Bethel Evangelical Missionary Church in Hanna, Alberta, at 2:00 p.m., with interment at the Hanna Cemetery.
In lieu of flowers, donations can be made in memory of Irene to the Hanna Bethel Evangelical Missionary Church Elevator Fund, PO Box 572, Hanna, AB, T0J 1P0.
Share Your Memory of
Irene
Professional, Compassionate Care, for all of your Funeral Needs.
Contact
302 1st Avenue West

Hanna, AB T0J 1P0

Looking for something you can't find? We make it easy to get the answers you need. Please feel free to contact us at anytime