302 1st Avenue West | Hanna, AB | T0J 1P0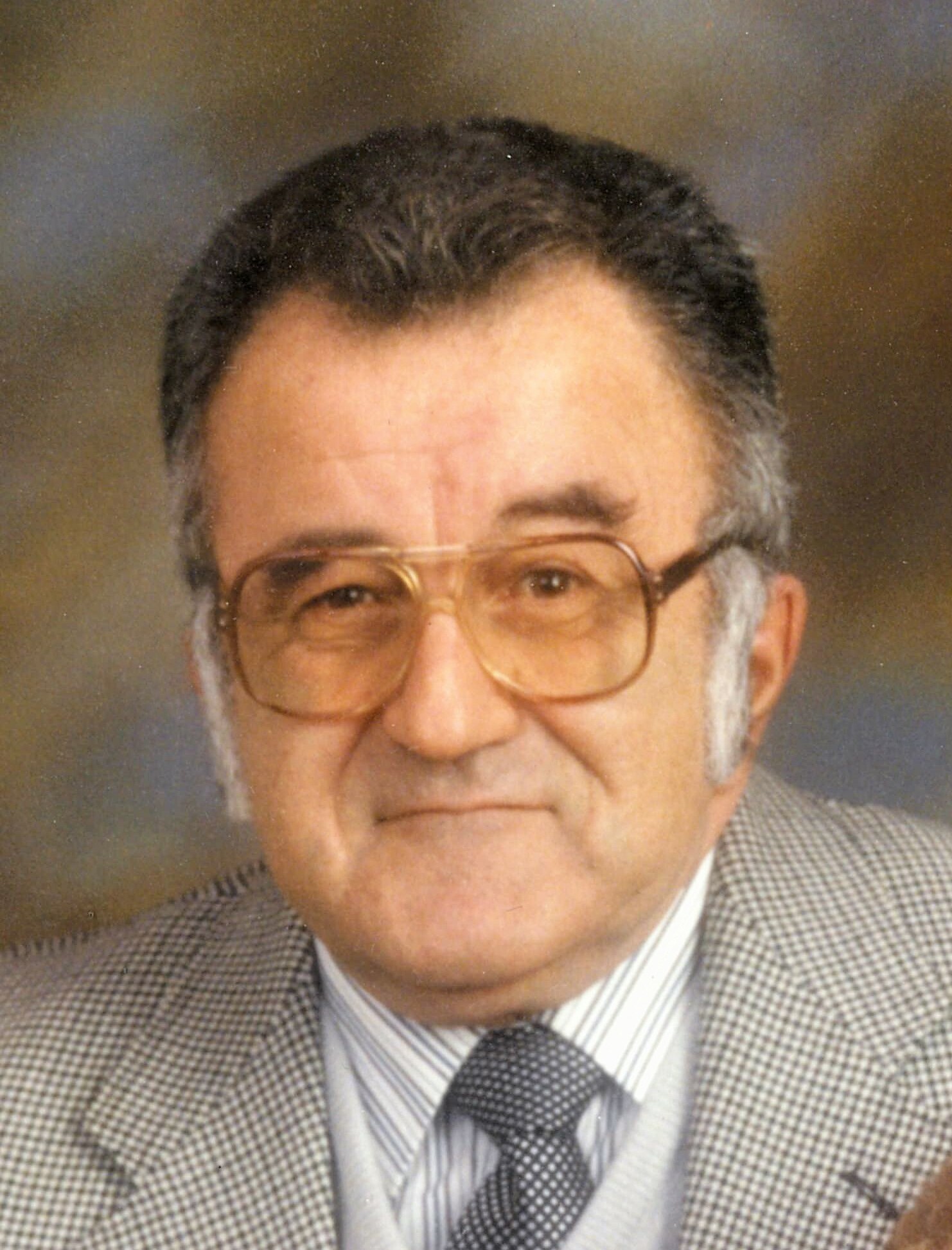 Obituary of Ernest (Ernie) Alexander Angel
Please share a memory of Ernest (Ernie) to include in a keepsake book for family and friends.
Ernest Alexander Angel (Angelopoulos), passed away peacefully in his sleep after a long fight with cancer on the 5th of June 2022 at 08:00 in Hanna Long Term Care. Ernie a loving husband to his wife Blanche, who predeceased him in January 2021; father to two sons: Leslie S. Angel, and Byron P. Angel; grandson Ben Angel; and his extended family. A strong, proud, generous individual who kept "my problems" to himself. Forever loved and missed; RIP and may you join all family members and reunite.
Dad was Born on May 1st, 1933, in Canada, the youngest son of Greek parents who emigrated to Canada from the Peloponnese in his father's case, and mother from Corfu. His family was large with Dad being the youngest of the latter two (Lillian and Ernest); two additional brothers and four sisters…. Johnny, Paul, Alice, Mary, Sophie and Lillian.
Dad served in the Canadian Navy as an Able Seaman during the three years of the Korean conflict, leaving the navy in 1953. He then forged a long and well-respected career in the Oil industry, first in Alberta, then internationally, in Trinidad from 1964 to 1966.
He went on to spend seven years in Sarawak on Borneo, working from driller to rig superintendent in the south China Sea for Sedco, where he also stood in for the area general manager at the time. This was a posting jealously guarded by those within, and as I (Les) was later to learn in my own career once I was posted to the Middle East, not forgotten by those posted there! I was made to feel slightly uncomfortable when introduced to the Vice President, Operations Manager and upper management in UAE and Qatar, who had known and worked with Dad, being directly introduced as "one of the Miri (Sarawak) crowd". Such is life in "the patch!"
From Borneo we went on to Scotland, where he worked as Rig superintendent, Assistant Manager and Manager, with one year spent in Brazil in Belem with one of the company's units, where more "wild west" adventures took place (such as street gunfights conducted outside of the Churrasqueira (BBQ Restaurant) where all staff tumbled out into the street to join in, with machete's and pistols.) before returning to Scotland in 1977 to 1980. A slightly more docile living.
In 1980 – 1984, he went on as Construction Manager for three new build semi-submersible's for Sedco, built and commissioned in South Korea, where he and Mom made new friends for life, including the owner of Hyundai Heavy Industries, before returning to Scotland and managing one of the new rigs, the 714 for the next 8 years.
This also "allowed" him to become an "active smuggler" feeding his love of good wines, (forget it Capt. Jack Sparrow…….!) when the rig made a scheduled port call in Cape Town during its transition from S. Korea, where he took the opportunity to load her up with cases of red and white wines, from South Africa. This was all during the approaching end of the Apartheid era in South Africa, when there were still strict restrictions, sanctions and embargos on the country. This wasn't about to stand in Dad's way!!!
After leaving Sedco in 1992, which was by now owned by Schlumberger, as Sedco/Forex, Dad went on to Consult for several of the major Oil Companies including Cairn Energy, in various locations, from Georgia, in the Former Soviet Union, where he met the President of Georgia, Eduard Shevardnadze, during a period of instability due to Russian backed rebels. He related several stories of his time to me, including one night returning to his flat from his office, which was across from the rail yards, when rebels launched an attack on the facilities. He said the streets were full of troops and armoured vehicles, and the shooting lasted until 4:00am in the morning. This was a relatively 'minor situation', in comparison to some of the ordeals he dealt with at the time.
He also worked in Libya, Dubai and China, working for the Chinese National Oil Corp. (CNOC) at the time out of Guangzhou and Macau. He spent some time working in India and Bangladesh too, before finally retiring for good.
Dad loved to travel, and he and Mom were fortunate to be able to visit, work and see many parts of the world; South Africa, Kenya, Greece, France, Cyprus, Crete, The US (they loved Reno and Vegas), the Caribbean, Borneo, Singapore, the Philippines, Thailand, Hong Kong, and Hawaii. Dad and Mom were able to instil this love for the diverse cultures they encountered in both, my brother and I.
He is sorely missed by both his sons and his Grandson, who have been unable to return to Canada to see him, apart from a visit last year by myself, Byron. He and Mom are remembered fondly by all who knew them. Together again. RIP.
No formal service will be held. Ernie will be laid to rest at a later date with his wife Blanche.
If desired donations in memory of Ernie can be made to the Hanna First United Church, Box 940, Hanna, AB, T0J 1P0.
Share Your Memory of
Ernest (Ernie)
Professional, Compassionate Care, for all of your Funeral Needs.
Contact
302 1st Avenue West

Hanna, AB T0J 1P0

Looking for something you can't find? We make it easy to get the answers you need. Please feel free to contact us at anytime