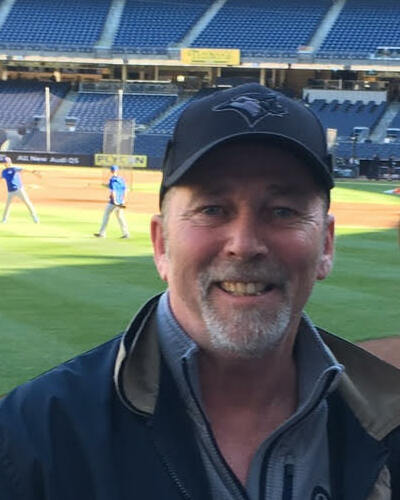 Obituary of John David Henry
It is with deepest sadness, that we share the news of the passing of John David Henry.
Surrounded by the love of his family, John's brave battle with cancer ended on November 12, 2021, after 20 months. John lived 63 years, was a true warrior and has left us way too soon!
John will be forever remembered and sadly missed by Deb Henry, loving wife of 38 years; son, Joel (Ashley) and daughter, Jaiden (Frazer); precious grandchildren, Finley, and Bauer Henry; siblings, Merrylynn Henry, Bob Henry (Lisa), Bruce Henry (Deb), Leanna Kopczyk (Mario), Tim Henry, Ross Henry (Mary), Susan Shappas (Jim), Lissa Henry (Dave); as well as numerous nieces, nephews, cousins, aunts, uncles, and friends.
John is predeceased by his parents Douglas and Dorothy Henry, brother Rick Henry, brother in-law Ken Fox and parents-in-law Michael and Doreen Kawka.
John was born on August 14, 1958, in Newmarket, Ontario. He was the seventh child in a family of ten, born to Douglas and Dorothy Henry.
Growing up, John's siblings describe him as a mischievous, caring, sometimes bossy little kid who loved animals, raised pigeons, and fished whenever he had the chance. He was raised in a large family with solid morals and respected old-fashioned values. Each one of his brothers and sisters are as wonderful and unique as he is. Their family bond remains undeniable, even though thousands of miles separate them.
John was full of life and had a fun, playful spirit which never left him. When John was in his early 20s, he attended George Brown College in Ontario and received his Class 1 license, then headed to Alberta to find work. Once here, he lived with his two brothers, Bruce, and Tim, and got a job driving a gravel truck for Lorne Robbs.
As most people know, John had a passion for baseball. He was a natural shortstop but also loved to pitch, striking out batters with his wicked knuckleball, or curve ball. Through the sport, he met a ton of people, made lots of friends, and that's where he met Deb.
John and Deb had an instant connection. They dated, got engaged and were married within one year. Three years later they welcomed their son Joel and were on Cloud 9 to be parents. Three years after that, they were blessed with their daughter Jaiden which gave them their "million-dollar family." John will tell you his greatest accomplishment of all time, was being a dad.
Our children both share John's playful, carefree spirit, love for sports and genuine quiet confidence that comes from being raised in a home of love. Countless supper hours were spent cheering on the Toronto Maple Leafs or the Toronto Blue Jays or watching a new season of Survivor and betting on the outcome. Although our family was small, together was the best place to be, spending quality time, playing board games, Yahtzee, camping, golfing, playing ball or generally anything outside.
John loved to be involved, as a coach, a mentor, or a volunteer. He coached many years of hockey, baseball and even took the stage at a dance recital. He was always a good sport and never really did anything half-assed.
His greatest privilege was being a Papa to his two young, precious grandchildren. If only for a short time, he loved them more than humanly possible. They were his priority and gave him yet another reason to be the silly, crazy, fun nuisance, we couldn't resist.
For the past 25 years, John was employed with the Town of Hanna. The last 16 of those years he spent as the Community Services Foreman. He truly loved his job and took pride in this wonderful community he called home. When you look around Hanna, you can see bits of his creativity sprinkled all around in his landscape designs, interlock stone paths and numerous trees planted over the years. Working at the Town, he met so many great people, especially during hockey season. You could find him cheering on the home teams, driving the Zamboni, or sharpening skates for whoever needed them. John had a genuine, natural way with people and a contagious smile that instantly welcomed you in. He could strike up a conversation with absolutely anyone and you would leave as his friend.
He leaves our hearts so full yet broken at the same time.
Our family wishes to send enormous thanks to all our friends and family for their continued love and support, each and every staff member at the Hanna Hospital for the continuous care and compassion, the Red Deer Cancer Clinic for endless faith and hope, and Dr. Hanna, our amazing doctor and friend, who went above and beyond for John and our family.
In lieu of flowers, if you wish, please donate to STARS Air Ambulance, 1441 Aviation Park NE, Calgary, AB, T2E 8M7, or to Lung Cancer Canada, 33 Richmond St W #208, Toronto, ON M5H 2L3.
Hanna Funeral Services has been entrusted with the care and arrangements; 403-854-5956, www.hannafuneral.ca.