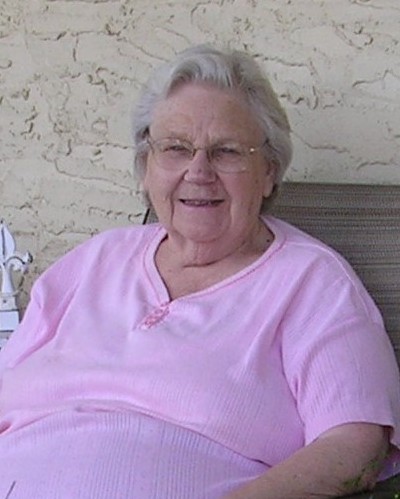 Obituary of Ada Benedict
It is with great sadness that we announce the passing of Ada (Fielding) Benedict (1927-2021).
Ada passed away peacefully, surrounded in love on June 11, 2021.
Ada was predeceased by her husband Don Benedict; her parents Lydia (Tipper) and Charles Fielding; three sisters: Carrie Crowle, Nellie Bond and Jessie McElroy and five brothers: Charlie and Jim Fielding and Alf, Charlie and Bob Hood.
She is survived by one sister Thelma Maetche. Ada is also survived by her five children: Don (Sharon), Jim, Glenn (Maureen), Bev & Becky (John); seven grandchildren; and nine great grandchildren who will miss her deeply. She was a cherished aunt to many nieces and nephews, several who'd had extended stays at the farm. She welcomed all with open arms.
Ada grew up in Hanna but upon her marriage to Don moved to the Handhills where she threw herself into farm life. She worked extremely hard but also had a great sense of fun. She was a loyal fan of both the Calgary Stampeders and the Calgary Flames and loved to banter with the Edmonton fans, including Dr. Hanna; whom we thank for his care and concern.
While not a spiritual person, Ada lived life with a strong moral compass. She was smart, uncomplaining, and extremely grateful for all she had. On a personal level she was very kind and a friend to everyone.
A special thanks to her nephew Doug Fielding who greatly enhanced Ada's final year at the Hanna Lodge and always knew how to make her laugh. We extend immense appreciation to former neighbours Darlene and Dave Anderson who kept a close watch on her in her later years while also tickling her funny bone. Ada had a huge sense of gratitude for the residents and staff at the Hanna Lodge and it was her biggest blessing to have son Jim by her side.
Thank you to all Hanna Hospital staff for their gentle care during her final days.
In lieu of flowers, donations can be made to the Hanna Hospital Ladies Auxiliary, Box 23, Hanna, Alberta, or to Stars Air Ambulance, donations@stars.ca..
Hanna Funeral Services Ltd., entrusted with the care and arrangements; 403-854-5956, www.funeral.ca.