302 1st Avenue West | PO BOX 460 | Hanna, AB | T0J 1P0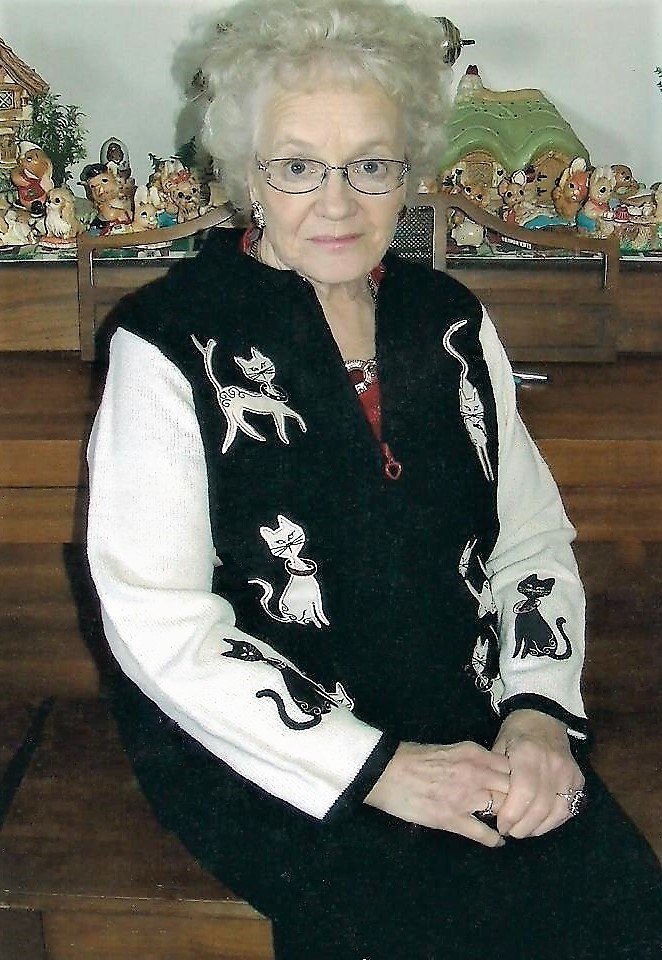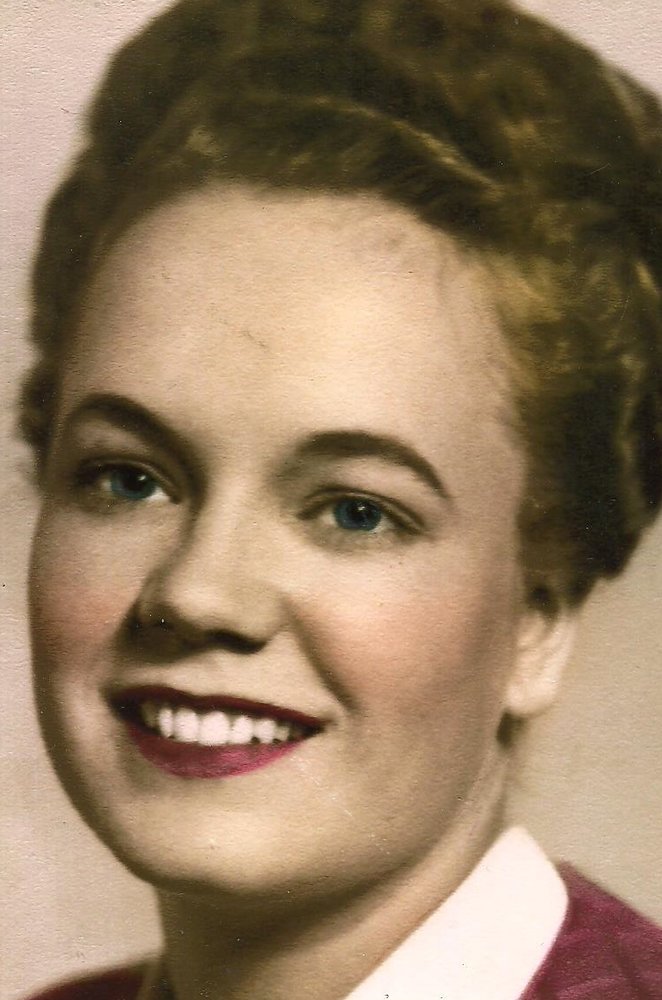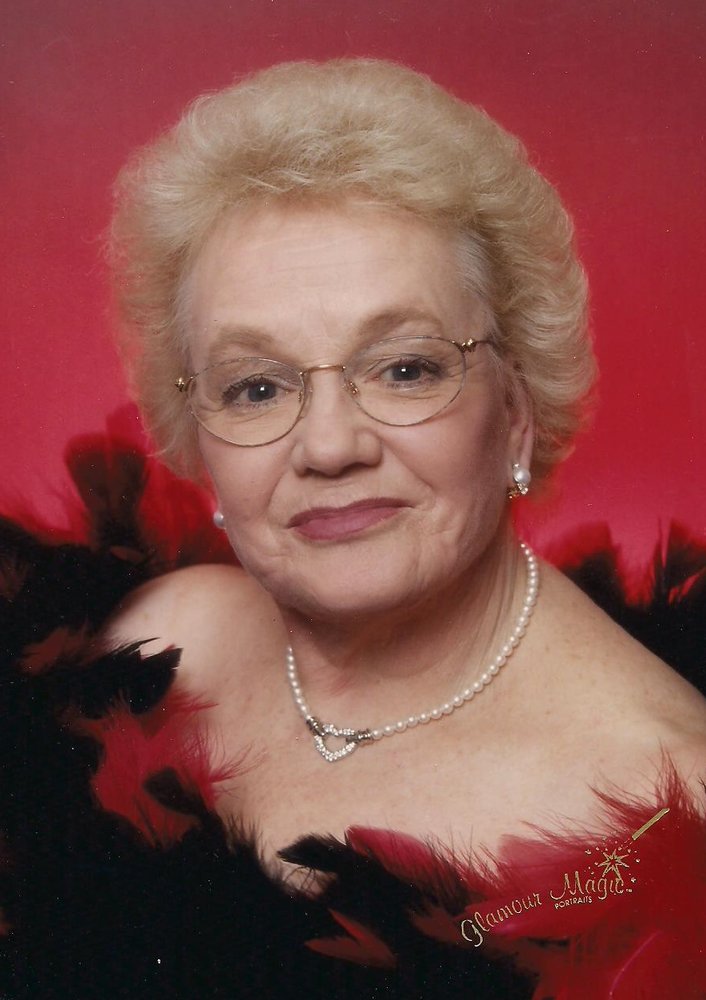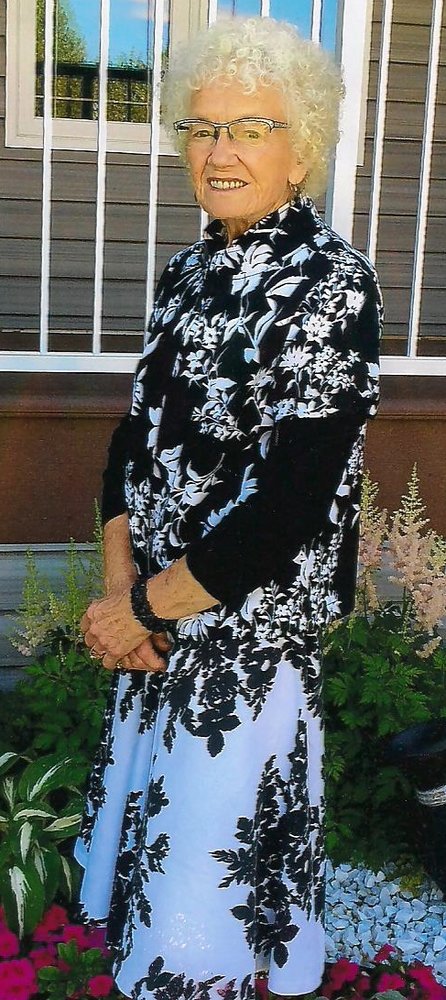 Private Visitation and Time of Sharing
A private invitational visitation will be held on Monday, March, 1, 2021.COVID Restrictions apply. Mask are mandatory. For more information please call Hanna Funeral Services call 403-854-5956.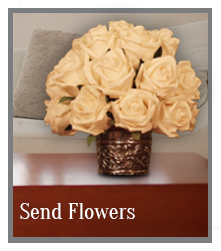 Obituary of Geraldine (Gerry) Gloria Ropcean
Mom was born Gerilyn Gloria Allgood. She was called Gerry until her mother told her in her thirties that her real name was Gerilyn, not Geraldine. Mom had always assumed she was a Geraldine. So, she then legally changed her name to Geraldine as that was how it appeared on all her legal documents.
Mom was born on July 2, 1931 in Teeterville (Windham Township) Ontario. Her parents grew and harvested tobacco in southern Ontario. This was in the heart of tobacco country. Mom and her siblings worked at various jobs on the tobacco farm starting at age 3, picking tobacco worms off the plants. As they grew older, they took on more responsibilities. Mom received her education at numerous schools as her parents bought and sold various tobacco farms. As was common of the times, mom only went to school until grade 8. Mom was the 6th of twelve children. She had 4 brothers and 7 sisters. Mom always said her older brother and sisters actually raised her as her mother was always so busy gardening, canning, and cooking for their large family and seasonal hired hands.
Mom moved off the family tobacco farm to London, Ontario at age 16. She was tired of the hard, endless work on the farm. Mom procured a job at a restaurant as a waitress for a couple of years until she moved on to be a sales clerk at Laura Secord Chocolates.
In 1948, while living and working in London, Ontario, she met my dad, Bill Ropcean; a handsome soldier from the Princess Patricia Canadian Light Infantry who was stationed there. They first laid sight on each other at a dance for military personnel. After WWII, Dad had joined the peace time army with the Royal Canadian Mechanics and Electric Engineers.
When the Korean Conflict emerged, Dad was deployed there. While in Korea, Dad's ten years of military service ended. He returned to Calgary in October 1951 and moved in with his sister. Dad sent for Mom and she travelled across Canada by train. They were married on November 15, 1951. Dad was employed by the Canadian Pacific Railroad and Mom found a job working at the S.S. Kresge Company as a sales associate. A year later, they moved back to Ontario to live and work on the Allgood tobacco farm for a season. They saved up enough money to return to Calgary and buy their first home.
Dad found employment with Greyhound Lines of Canada as a parts man and mom returned to work at the S.S. Kresge Company. She worked there until their daughter Brenda Leah was born on October 17, 1954. A son, Richard John joined the family on February 20, 1956. Mom was then a stay-at-home mom until Richard started grade 1. Then she rejoined the staff of S.S. Kresge where she stayed until the company expanded and built the first K-Mart store in Calgary. Mom then transferred to K-Mart where she worked until her retirement in 1991. Mom worked her way up the ladder from sales clerk to Department Manager and then into Merchandise Manager. Her last position was Personnel Manager for the entire store.
Gerry and her daughter Brenda were best friends. They enjoyed countless hours doing their favorite activity...shopping. They even went on a trip to Disneyland together.
Gerry's beloved husband died on December 23, 1988. She continued working at K-mart and then moved to Hanna in 1991 to help Brenda with her growing family as a loving grandma.
Mom lived for her 3 grandsons. She played games with them, wrestled on the floor, took them on long walks, dressed up at Halloween, built and constructed ramps for bicycle jumping, skateboarding and rollerblading, read Bible stories to them and at times helped with homework. Mom loved to cook and kept everyone well fed and plump. She made her grandsons breakfast and lunch (a full course meal). Often the grandsons would bring their friends over for lunch or supper and she would kindly feed them all.
In 1996, Gerry, Brenda and the boys moved in together at a new home. In 1997, they moved to a home on Stephens Crescent. They resided there until 2009 when they built a new home on 7th Avenue West in Hanna. Gerry resided there until her struggles with dementia and her first stroke facilitated a move to Hanna Long Term Care.
Brenda had moved to Airdrie in 2016 and she brought mom to the Skypointe Dementia Unit in February 2019 at Calgary. Brenda did this to be closer to her mom. On March 4, 2019, mom suffered a second stroke. This stroke drastically changed her physical health. Mom spent 5 weeks in the hospital and was transferred to the Dulcina Hospice for 9 months. She defied her doctors and caregivers as she continued to get better and was moved to Bethany Care Centre in Airdrie where she resided until her passing.
Mom was referred to as the Energizer Bunny as she had boundless energy and rarely sat down. She was a strong, independent woman who loved to dress up when she went out and had a passion for jewelry.
Gerry was predeceased by her parents, John and Florine, her husband Bill, son Richard, grandson Wryley Colin Dane, sisters Reba, Ercelle, Mozelle and Fay, brothers Raymond, Ray, Reggie, and Marty. She is survived by her daughter Brenda Beecraft, grandsons Nathan, Andrew, and Logan (Shanna) Beecraft, sisters Jean, Maxine, and Roxie.
Gerry was a much-loved mother and grandmother. She will be dearly missed. We take comfort in knowing that she is in God's loving arms.
A private visitation will be held on Monday, March 1 2021. Inurnment will take place at a later date at the Hanna Cemetery.

If desired, donations in memory of Gerry can be made directly to Alzheimer Society of Alberta and Northwest Territories, 10430 61 Ave NW #306, Edmonton, AB T6H 2J3, or to the Heart and Stroke Foundation of Canada, 110-1525 Carling Avenue, Ottawa, ON, K1Z 8R9.
Share Your Memory of
Geraldine (Gerry)
Professional, Compassionate Care, for all of your Funeral Needs.
Contact
302 1st Avenue West
PO BOX 460
Hanna, AB T0J 1P0

Looking for something you can't find? We make it easy to get the answers you need. Please feel free to contact us at anytime