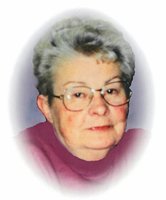 Mary Roselie Chidley
Mary Roselie Kerner Chidley passed away July 1, 2019 in the Rocky Mountain House hospital at the age of 82. Mary was born on November 1, 1936 near the family farm at Stanmore. She was the youngest of 8 children born to Frank and Viola Kerner.
Mary was predeceased by her parents, Frank and Viola Kerner of Stanmore, Alberta, and her seven brothers and sisters and their spouses: Emma Schulties (Isadore aka Shorty), Millard Kerner (Bella), Jim Kerner (Gerritje), Sylvia Chidley (Murl), Bill Kerner, Albert aka "Hoot" Kerner, and Connie Borrow (Ed), as well as brothers and Sister in law, Bill and Hazel Chidley and Arley Chidley
Mary leaves to mourn her passing her son, Dale Chidley of Alder Flats, her Sister-in-law, Leoma Chidley, numerous, nieces and nephews, and great nieces and nephews.
Mary took her schooling in Youngstown and Corinne School, north of Hanna and later in Hanna. She enjoyed playing ball while at Corinne and was their pitcher, later pitching for the Scapa team. In 1955 she married Bert Chidley in Castor, Alberta and they farmed near the Chidley family farm where their son Dale was born in 1958. They later moved to Hanna, then Stettler and later Altario, ultimately returning to Hanna where Dale graduated in 1976. During these years, Mary worked for Valentine Drugs, Gamble Drugs, McCleods and Special Areas while helping Dale with his house and his farm.
In 1990 Mary moved to William's Lake, B.C. where she worked at Cesear's Inn, a Motor Hotel complex owned by her sister, Connie and brother in law, Ed. For the next 12 years, she enjoyed her job and grew close to her B.C. family members.
She and her special friend, Arnie Peterson retired to Rocky Mountain House in 2002. Although, sadly she lost Arnie in 2004. She has enjoyed being close to Dale for the last 15 years.
This gentle, kind-hearted, hard working lady will be sadly missed.
Donations in memory of Mary are greatly accepted to the Canadian Cancer Society, STARS, or charity of one's choice.