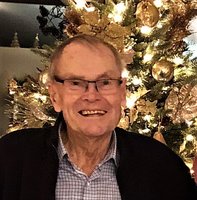 Richard Wade
Richard Wade Obituary
1933 ~ 2019
Richard was born on January 12, 1933, in Bassano, AB., to Alice and Ted Wade. They resided on the family farm and he attended school in Gem. In 1936 his brother Jim was born, and in 1939 their dad joined the military and went overseas. Richard moved to Vancouver with his mom and brother Jim, to be closer to family. While in Vancouver Richard's sales ability immerged and he was #1 paper boy for the Vancouver Sun.
In 1946 his mother married Dale Laughlin and they moved to Youngstown, AB, where Richard attended school. Richard's brother John was born in 1947. Richard worked with Dale at the Esso Service Station and at their Massey Ferguson dealership (Laughlin and Wade). In 1960 Richard married Sandra Taylor from Rivers, Manitoba, Together, they had three daughters: Tracey, Jodi, and Tara. Richard opened the Massey Ferguson dealership in Hanna in 1969, and in 1971 the family moved to Hanna. Richard sold the dealership in 1977, however continued to sell for a few years. He then got his real estate license and he has never stopped doing what he loved – selling. Richard was still going to his office at Big Sky Reality a month ago.
Richard was predeceased by his mother Alice Laughlin, and father Ted Wade; step father Dale Laughlin, brother Jim, Sandra's parents: Margaret and Frank Taylor, brother in law Larnold Brandon.
Richard is survived by: his wife Sandra of 59 Years; daughters: Tracey (Doug) Grantham, Jodi (Terry) Wood, and Tara (Darcy) Heon; eight beautiful grandchildren: Taylor, Jordyn, Abby, Chloe, Ben, Lincoln, Haylee, and Rylee; brother John (Debbie) Laughlin; sister-in-law Joan Wade and sister in law Jo Ann Brandon, and many nieces and nephews.
A Celebration of Richard's Life will be held on Monday, May 6, 2019, at the First United Church, followed by "Beef on a Bun and Happy Hour", at the Hanna Community Centre.
Donations in Richard's memory are gratefully accepted to: The Hanna Ladies Auxiliary, Box 23, Hanna, AB, T0J 1P0, or to Connections, 510 1716, 16th Ave., NW, Calgary, AB, T2M 0L7. Connections is a registered charity that helps parents with cognitive challenges be the best they can be.
Donations may be made through a cheque to Connections Counselling and Consulting Foundation mailed to 510, 1716 16th Ave. NW, Calgary, T2M 0L7 or online through CanadaHelps at www.canadahelps.org/en/charities/connections-counselling-and-consulting-foundation/ Connections' CRA number is: BN890700347RR0001 and a tax receipt will be provided.
Hanna Funeral Services, Ltd., 403-854-5956, entrusted with the care and funeral arrangements.