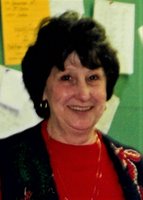 Vanita Myrtle Mathers (Wasdal)
Obituary ~ Vanita Myrtle Mathers (Wasdal)
1938 ~ 2018
Vanita Myrtle "Toots" Mathers (nee Wasdal/Kenny) of Hanna, Alberta passed away on Dec 10, 2018 in Hanna.
Vanita was born in Hanna to Ralph and Myrtle Kenny on July 29, 1938. She took her schooling in Byemoor and Hanna AB. Vanita was a stay at home mom until the passing of her husband Otto in 1980. At this time she joined the workforce and became an insurance broker until she went to work for the Alberta Government as a Constituency Office Manager; where she worked until she retired 25 years later.
Vanita is survived by her sons: Randy (Elaine) of Hanna, Daren (Shondra) of Edmonton, Scott (Sherry) of Calgary; brothers: Wayne (Judy) of St. Paul, Lyle (Lorraine) of Edmonton; sister Fern (Bill) of Calgary, sister in law Annie (Len) of Edmonton, three children from her second marriage: Donna, Dorothy, and Clark; numerous grandchildren, great grandchildren, nieces, and nephews.
Vanita was predeceased in death by her first husband Otto Wasdal and second husband Clarence Mathers; her parents Ralph and Myrtle, brothers: Harold, Len, Floyd, and Alan, and grandson Clay.
At Vanita's house the coffee was always on and the welcome mat was out; everyone who came was considered family.
Memorial donations are gratefully accepted to Stars, 1441 Aviation Park NE, Calgary, AB T2E 8M7, or to the Hanna Ladies Auxiliary (Palliative Care Room), Box 23, Hanna, AB, T0J 1P0.
A Celebration of Life will be held on Sunday, December 16,1 P.M., at the Hanna Seniors Circle.
Hanna Funeral Services Ltd., Hanna, AB, 403-854-5956, entrusted with the care and funeral arrangements. To send or view condolences to the family, please visit www.hannafuneral.ca.