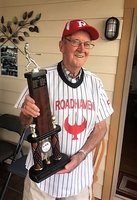 John Howard "Howie" Ferguson
John Howard (Howie) Ferguson, passed away on September 7, 2018 at the age of 85. Howard was born on July 24, 1933 in Acadia Valley, Alberta. Howard was the youngest of 9 children born to Jack and Hannah Ferguson. Howard grew up in Acadia Valley and attended linesman schooling at SAIT. Howard had a lengthy career for the Canadian Wheat Board in Drumheller, Lethbridge and Winnipeg. Howard began dating the love of his life, Joy Peers, in 1954 and they were married on November 9,1957. They moved to Youngstown to begin their life together. Howard and Joy's first son Darcy was born on January 30,1959, followed by Blaine on August 6,1962, and Jerry on July 12,1965. All the boys were born in Hanna except Scott, who was born September 18,1969 in Wainwright.
After Howard's retirement from the Canadian Wheat Board in 1994 they returned to Hanna to be closer to their family. Howard was involved in many activities with friends at their winter home in Arizona including playing baseball and dancing with his wife, Joy. He was an active member of the Lions Club in Drumheller, Lethbridge, Winnipeg and Hanna. He enjoyed attending the Old Time Jamboree and Ladies Auxiliary Rummage Sale.
Howard was predeceased by his parents, Jack and Hannah, his wife, Joy Ferguson, his siblings: Donald, Joe, MacDonald (Mac), Doug, Dorothy and Jean Ferguson, and granddaughter Taylor Ferguson. Howard is survived by his four sons: Darcy (Tracy), Blaine, Jerry (Donalee), Scott (Kathy), grandchildren: Ryan, Amy, Kyle, Carissa, Adam, Jorden, Hunter, Tyler; his sister Joan Shields, twin sister Helen Sherman, sister in law Helen Peers, brother in laws Larry and Glen Peers, special friend Kay Munroe, as well as numerous nieces and nephews. A Funeral Service will be held on Friday, September 14, 2018 at the Hanna United Church at 2pm officiated by John Armstrong. In lieu of flowers, donations can be made in Howard's name to the Hanna Lions Club or the Heart and Stroke Foundation.