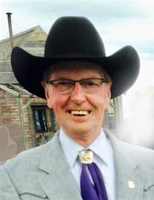 Scotty Dickson
Obituary
Charles Christison "Scotty" Dickson
1941 ~ 2018
Charles Christison "Scotty" Dickson, was born Nov 20, 1941 in Forfar, Scotland. He was the only child of Hugh Evans Haig and Catherine (nee Black) Dickson. He passed away at 76 years on July 26, 2018 at the Hanna hospital due to complications of ALS. He leaves behind his wife of 47 years Sheila (nee Scott), his son Scott and Jasta Dickson of West Kelowna and his two grandsons that were near and dear to his heart, Kian and Krew.
"Christy" as he was known in Scotland, spent his youth and young adulthood in Glen Esk Scotland where he worked as a farmer of sheep, cattle and grains. His primary residence was the farm Ardoch where he was raised as a child and then started his own family. After a life of farming, an opportunity to come to Canada was presented to him by Fred Mannix of Manalta Coal. Seizing this opportunity to better his family, Christy emigrated with his wife and young son to Canada Jan 19, 1978. His job opportunity with Manalta coal placed him in Hanna to work at the Sheerness mine. It was here that he earned the nickname Scotty that was to follow him for the rest of his life. Work at Sheerness was cut short by a 4 yr long strike that had Scotty scrambling to find work in this new country. When asked if he could run a Zamboni, he said, "sure can" and got himself a seasonal job at the Hanna Arena. First thing he did was ask a person on the street what a Zamboni was. He worked his second winter in Canada with Sam Kelm at the Hanna Arena but was laid off again in the spring. Fortunately, Earl Liddicoat offered him a job at Hanna Tire, another job he had never done. He worked there until a posting for the Arena and Swimming Pool Manager came up; in which he got the job.
The Arena Manager job which expanded to include parks, was proudly held for 24 years until the position was eliminated. He was loyal to the citizens of the community and took great pride in trying to make Hanna a better place to live and do business. After leaving the arena, Scotty took odd jobs before finding a position with Terry Hensel and Hanna Chrysler delivering vehicles. This is a job he truly loved as it allowed him to travel around and see this beautiful country we call Canada. He worked at Hanna Chrysler until his hands would not work anymore and this was the second time that his career had come to an unexpected end. These two events were disappointing turning points in his life.
When Scotty first came to Canada, he loved the Calgary Stampede and fell in love with the sport of rodeo. All vacations were timed around the Calgary Stampede, CFR and NFR. He was a founding member of the Hanna Indoor Pro Rodeo and was involved with the event until his death. The Hanna rodeo was his greatest pleasure as he got to combine his love of work, community and rodeo. Through rodeo, Scotty found some of his best and most loyal friends.
Scotty got to be a grandparent later in life, but he relished his time with his grandsons. He loved to be able to spend time with them whenever he could and was tickled to be able to share a trip to Scotland with them. He will be immensely missed by these two boys.
Scotty loved his wife and family, was fiercely proud and loyal to his community, never left a party early or showed up late for work. He will be sorely missed by all that knew him.
A Celebration of Scotty's life will be held on Friday, August 3, 2018, 1:00 P.M., at the Hanna Community Centre, Hanna, Alberta.
Donations in Scotty's name can be made to: ALS, South Health Campus, 4448, Front Street SE, Calgary, AB, T3M 1M4, or to Hanna Home Care, Box 730, Hanna, AB, T0J 1P0.
Hanna Funeral Services Ltd. entrusted with the care and funeral arrangements, 403-854-5956. Condolences can be sent to the family at www.hannafuneral.ca.