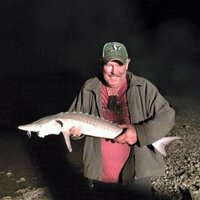 Robert (Bob) Thomas McCoy
Robert Thomas McCoy was born in Cabri, Saskatchewan on March 29, 1958, to Thomas and Phyllis McCoy. Bob grew up on the family farm which aided in his passion for vehicles and proved that he had a strong mechanical interest. He attended school in Abbey, Saskatchewan, and continued schooling, achieving his Red Seal as an Automotive Mechanic. With this he had many adventures with various automotive repair facilities, both running his own mechanic shop and working at private shops. This took him from Lancer to places like Lethbridge, Moose Jaw and Regina.
With the passion he had for vehicles, he began racing stock cars at various racetracks in southern Saskatchewan and Alberta. He also achieved another dream of his, flying. He obtained his pilot's license and flew RC airplanes and Cessna's. With his retirement, he continued with his other passion, fishing. From the lakes of far northern Saskatchewan, to the lakes and rivers of southern Alberta, there was always somewhere to catch the big one. Bob made a lot of lifetime friends and always enjoyed himself in everything he did. He brought a lot of joy to everyone around him.
The biggest joy in his life was his children and his grandchildren. Bob is survived by his children Bernard (Danielle) McCoy and Cheri McCoy (Waylon Capner) and grandchildren, Adrienne, Dominic, Emily and Chloe, as well as two great grandchildren Rayden and Wynter-Lynn. He is also survived by his sisters Kathleen Dease, Doreen (Sherman) Lyngstad and brother James (Melody) McCoy.
As his health declined, he had his right leg amputated and had a prosthetic leg that provided continuing mobility. While most people might think this event may bring Bob down, it never did, and because of this, he met the love of his life, Barb, while recovering from his surgery. Anyone that knew Bob and Barb knew that they were never happier than these last few years when they were together. Barb and Bob moved to Calgary and supported each other until Bob passed away, with Barb by his side, in their home during the early hours of Feb 3, 2023.
Bob was predeceased by his sister Linda Lockman, father Thomas McCoy, mother Phyllis McCoy, brother in law Hilding Dease, brother in law John Shearer and sister Dorothy Shearer.
A private family Celebration of Life will be held on February 11, 2023.
Honorary Pallbearers are Dominic Visser, Brent Bradford, Rene Wagner, Cam Scherger, Jerome Dillman, Wes Pearce and Sally Menda.
Memorial contributions can be sent to the charity of your choosing.
Hanna Funeral Services has been entrusted with the care and arrangements, 403-854-5956, www.hannafuneral.ca.