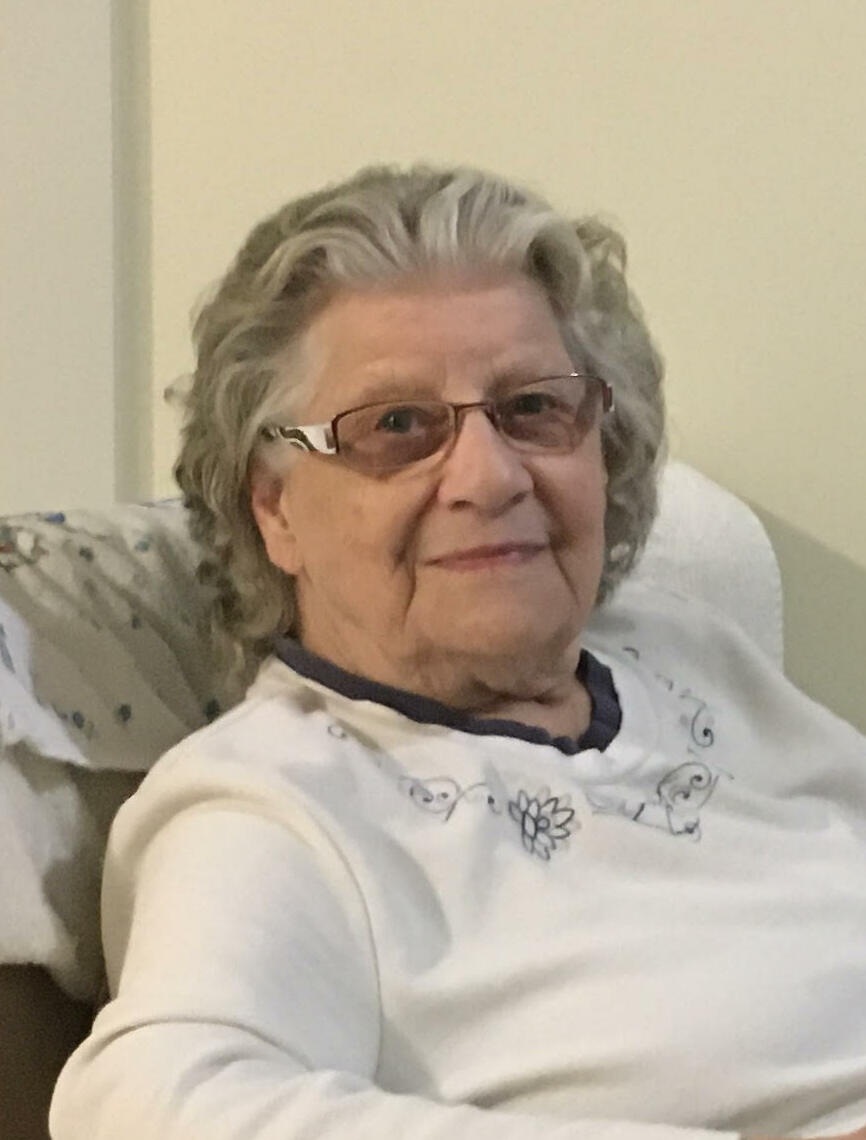 Joyce Elizabeth Godfrey
The family of Joyce Elizabeth Godfrey announce her passing at the age of 88 years on August 26, 2021, in Hanna Long Term Care. Her quality of life was almost nil for months before her sudden diagnosis, in June, of a tumor in the esophagus discovered to be cancer. She was taken from family and friends only 2 months later. Joyce's suffering is now over; safe in her Saviors loving arms…a blessing.
With great loss this lovely, beautiful lady will be missed and remembered by her family and friends. Joyce, a wife, mother, grandma, great grandma (G.G.) sister, and friend.
Joyce was born to parents William and Lilian (Will & Lil) Titterington in the city of Calgary, Alberta. Schools she attended over the years were Sunalta, Bankview and Mount Royal Elementary School.
Joyce was married to Duane, a friend and love for many years. Together they raised three children: Bill, Karen, and Sherry. They lived in Calgary and Acme for many years. They decided to move to a beautiful property east of Innisfail with a creek running through, lots of trees and made a home for adult children, grandchildren to come and enjoy the country life. Later moves were made to Linden, and eventually Hanna where Joyce passed. Everywhere she lived she made many friends along the way, who loved and cared for her. Joyce was happy to help wherever she was needed.
From the age of 14 years old, Joyce worked until well after her retirement years. She worked part time with her sister Val at a local café. Joyce had a variety of employment with several businesses: in an office, payroll, cashier supervisor to management in sales. She also volunteered as a caregiver for family and was employed as a caregiver for several clients with Alberta Health Services.
Joyce loved her family. Family was everything to her. She was always there for her family and took good care of everyone. Joyce loved the ocean, lighthouses, bird's, cats, dogs, plants, and flowers. She surrounded herself with everything that was important to her and those she loved. You could count on Joyce to always listen and provide great advice. We didn't always take it…most times we did our own thing!!
When she wasn't working or spending precious time with family and friends, you could always find Joyce at home drinking her earl grey tea and reading a good book. Reading was one of her favorite pass times. Joyce spent her life always caring for others. In her last few years, it was an honor and a privilege to care for her… a blessing.
Joyce will be deeply missed and is survived by her children: William (Laura) Godfrey, Karen Rea, and Sherry (Brian) Lock; seven grandchildren: Jodi, Brandy, Liam, Amber, Cody, Peter, and Jason; eight great-grandchildren: Madison, Brooke, London, Davin, Daelyn, Billie, Russel, and Stella; siblings: Dick (Ruth), George (Verna), Val (Paul), Chuck (Marilyn), and Hazel (Bill).
She was predeceased by her parents: William and Lilian, and her husband Duane.
A private graveside service will be held at the Craigmyle Cemetery.
If desired donations in memory of Joyce can be made directly to a Cancer Society of your choice.
Hanna Funeral Services Ltd., entrusted with care, 403-854-5956, www.hannafuneral.ca.