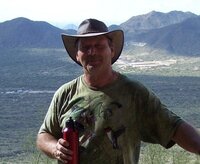 Donald (Ed) Edward Hofman
Donald Edward Hofman (Ed) passed away in the Hanna Hospital, on Friday, September 3, 2021. He was born in Zaandam, Holland on November 18, 1951, and moved to Canada in 1952.
Ed was a wildlife conservation biologist (specializing in rattlesnakes) with Alberta Sustainable Resources (formerly Alberta Fish & Wildlife) for 38 years. Ed worked in Lethbridge, Brooks, Red Deer, Hanna, Strathmore and Drumheller.
In 1998, Ed married Muriel in Apache Junction, Arizona. Upon retirement he worked as a consultant for Special Areas and Ducks Unlimited.
Ed enjoyed camping, hiking, geocaching, & nature in general. His caching name was Arizona EMU and made many novel, interesting and exciting hides in both Alberta and Arizona. He had belonged to Toastmasters for many years and was an active member of Ducks Unlimited Canada.
He is survived by his wife Muriel; son Daynan of Alberta; stepdaughters: Cori Lausen (Michael) of BC, Sheri Fecho (Blake) of Alberta; granddaughters: Jaiden, Courtney, Stephani, and Mercedes; and two great-granddaughters. He is also survived by his brothers: Karl (Heidi) of Holland, Ron (Cecile) of Manitoba, Rick (Barbara) of BC, and his sister Tini of Alberta. Ed was predeceased by his oldest son, Dallas.
No memorial service will be held at this time.
In lieu of flowers, donations can be made to WWF Canada, or WCS Canada.