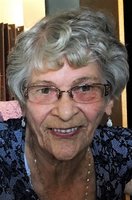 Albertine (Bert) Marie Stang
Albertine Stang better known as Bert, beloved wife of Reinhold Stang, passed away on May 9, 2021 at the age of 83 years with her family by her side.
Bert was born March 23, 1938 at Myrnam, Alberta to Gilberte and Philip Lessard. She grew up in Beauvalan, Alberta until Grade 9, the family then moved to Vegreville, Alberta. After her schooling she worked at the Vegreville Hospital as a Nurse's aide for four years.
Bert met Reinhold while he was working in Vegreville and eventually they were married on November 10, 1958. After moving several times in their early years of marriage they moved with their five children to Hanna in July 1967 and have resided there ever since.
Over the years Bert became involved in numerous groups and hobbies and activities. She was involved in CWL at the church, Kinnettes, she was a hockey mom and figure skating mom, she made costumes for carnivals and Halloween (they were always great costumes)! She was an incredibly talented seamstress, chef, and baker. It wasn't very often you would go for a visit and not have a delectable treat put in front of you! She loved trying new recipes and they always seemed to turn out. Bert also enjoyed gardening, camping, curling, and golfing, she also tried to keep up with her kids and took adult swimming lessons and kind of learned to skate by hugging the boards. It was great that she wanted to spend time with us. Later in life she also found Casinos to be fun and she actually did ok!
Bert was fun-loving and liked to have a good time! Her sense of humor was topnotch - good thing because she was teased mercilessly by her family and she loved it and we loved her!! She was easy to talk to and met people easily. Since the pandemic one thing she said she missed was going downtown and running into people she knew and hadn't seen for a while!!
Bert will be fondly remembered and already missed by her family and friends.
Bert is survived by her husband, Reinhold of 62 years and their children: Kim (Ron) Walton, Keith (Adele), Shelley (Ken) Boulter, Valerie (Francis) Foran, and Kevin. She has been blessed with ten grandchildren and ten great grandchildren and two more on the way! She is also survived by two sisters and a brother and numerous brothers in law, sisters in law, nieces, and nephews!
Bert was predeceased by parents Philip and Gilberte Lessard, a sister Jacqueline and brother Raymond.
A private family mass will be held May 17, 2021 at 11:00 a.m. at St. George's Catholic Church in Hanna.
If desired, donations in memory of Bert can be made to the Kidney Foundation.
Hanna Funeral Services Ltd., entrusted with the care and arrangements; 403-854-5956.