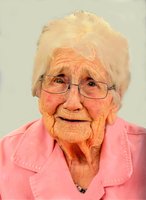 Betty MacKenzie
Elizabeth (Betty) Helen Mackenzie
1916 ~ 2019
Obituary
Betty MacKenzie passed away on Oct 11, 2019, at the Hanna Long Term Care Facility, Hanna, Alberta, at the age of 103.
She was born in Burfield, Alberta, on June 28, 1916.
Betty came to Hanna as a teacher in the area, and she met her husband of 53 years, William (Bill) MacKenzie. Bill and Betty were married on Oct 23, 1939 and ranched North of Hanna. They were blessed with four children: Donna, Neil, Bill, and Jim.
She will be lovingly remembered for the love and care she gave to her family and friends. Anyone that came to her home was always welcomed with open arms and she made sure that they were well fed and cared for. Her quick sense of humour, intelligence, and above all her selflessness defined her. Her hospitality and care was genuine, and this is reflected by the numerous friends that she had in her life.
Betty is survived by her four children: Donna (Brian) Willows of Vernon BC, Neil (Doralis) MacKenzie of Calgary, Bill (Pat) MacKenzie of Hanna, and Jim (Beda) MacKenzie of Edmonton; multiple grand-children, and great-grand children; sister Anne Willows, and many extended family.
She was predeceased by her husband Bill in 1993, three brothers: Will, Neil, and Taylor Wallace; and two sisters: Jean Bevan, and Agnes Marsh.
A Memorial Service will be held on Saturday, Nov 16, 2019, 1:00 p.m. at the First United Church, Hanna, AB.
In lieu of flowers, and if one so desires, donations in Betty's memory are gratefully accepted to The Hanna Ladies Auxiliary, Box 23, Hanna, AB, T0J 1P0. Hanna Funeral Services Ltd., entrusted with the care and arrangements, 403-854-5956, www.hannafuneral.ca