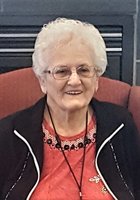 Leoma Elaine Chidley
Leoma Chidley
1927 ~ 2019
Obituary
On the morning of September 27, 2019 Leoma Elaine Chidley passed away peacefully at Hanna's Long Term Care at the age of 92 yrs.
Leoma was born on June 21, 1927 in Castor, Alberta. She was a daughter of Leo and Olive Slemp.
She was raised on a farm three and a half miles south east from the hamlet of Fleet, Alberta. She obtained seven years of her schooling at a country school named Kimberly, and then she took the rest of her schooling at Fleet.
She spent two years at Olds Agriculture School graduating in 1952. She worked in Castor at a ladies wear, (Red and White Store) and was also a bookkeeper for a machine shop.
In 1954 she married Arley Chidley of Scapa. To this union was born four children, Gary, Debbie, Donna and Dixie. They farmed twenty years at Scapa. In 1974 they sold the farm and moved to an acreage three and a half miles from Hanna. In 1982 they all moved into Hanna.
She worked at the Canada Grey Motel for eight and a half years then she took up babysitting for eleven years. She loved little children and was often called Grandma by many. She was a doting grandmother to her four Grandchildren and one Great Grandson which brought her great happiness and joy.
Leoma was a kind and gentle woman, and a friend to many.
She loved playing cards, gardening, and working with her hands doing lots of needle work in her younger years. She spent just over the last year living at Hanna's Long Term Care, where she always appreciated the compassionate and respectful care she received from LTC staff.
She was predeceased by her husband Arley; her parents, Leo and Olive; her parents-in-law Russell and Elechia; her sisters Marguerite and Jean and brother Gordon.
She leaves to mourn her loving family; Gary, Debbie (Tom), Donna (Gordon), and Dixie (David). Grandchildren: Kyle (Katie), Russell (Shayla), Kelli, Ashley and Great Grandchild Lee as well as her sister Lois (Bob), and numerous nieces and nephews.
Interment ~ Our Lady of Grace Catholic Cemetery Castor, Alberta on October 5, 2019.
A Celebration of Life will be held at the Seniors Circle in Hanna at 519 3 Ave. West, on October 7, 2019, at 2 P.M.
Donations in memory of Leoma are gratefully accepted to Diabetes Canada.
Hanna Funeral Services Ltd., entrusted with the care and arrangements;
403-854-5956, www.hannafuneral.ca